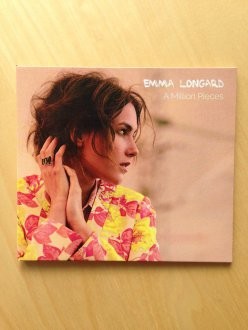 DAS

ALBUM

IST

DRAUSSEN

! Ich glaub es kaum und möchte mich bei allen bedanken, die mir auf dem Wege geholfen und mit mir gearbeitet haben, bei allen treuen Konzertbesuchern, Beiträge-Teilern und Unterstützern. Wie schön, dass es Euch gibt!
THE

ALBUM

IS

OUT

! I can hardly believe it and would like to thank everyone who helped me along the way, worked with me, came to my gigs, shared my posts and supp

orted me. I'm lucky you're there!
Many thanks, big hugs and love to:
BTM – Management, BENNI DERNHOFF, Manuel Mera, Marcel Rene Neumann, H.O.M.E. Studios, Bahar BT, Federica Malafronte, Phillip Eggers // Fotografie, Saima Altunkaya, Thomas Leidig, Fabio Niehaus, Timon Schempp, Lukas Schick, Christoph Liedtke, Tom Friedländer, Jo Valentin, Benjamin Voß, Sat Bisla, Olga Buss Maximilian Paproth, Buket Kocataş, Jana Wolff, Sony/ATV Music Publishing Germany, EMI Music Publishing, Believe Digital Germany, Initiative Musik, Magnus Landsberg, Simone Can, Henning Sommer, OHA! Music, Michy Reincke, Yvonne Paulien, Rintintin Musik, Olga Scheifele, Raphael Scheifele, Hannes Büscher, Jimmy Harry, Ginger Mack, Nina Vigors, Werner Gritzbach, Xerxes Bakker, Ivan Peroti, Robin Anthony Francesco, Martin Sjølie, Navid Chizari, Richard Craker, Chris Porter, Simon Triebel, Chris Fay, Emily Roberts, Peter Hoppe, Stern.de, Torsten Mewes Philipp Jacob-Pahl